At the end of June, right after the kids finished school, we threw a summer solstice party with our friends. It's a special group that started years ago when we were young, and the only ones with babies at the time. I'm sure most of you would agree that sometimes Motherhood can feel isolating if you don't have anyone to share in the struggles, or run questions by. I have the best memories with these girls and I'm so glad I've had them with me along the way through the trenches, and the good times in-between.
Life has seasons, and for many years we've gotten together for each other's Birthdays and baby showers throughout the year. At the time, it was a great way to get together once every month or so and have a girls night. You can see some of those gatherings here:
Harvest Party
Baby Shower
Back Yard Baby shower
But this year I think everyone felt a shift. Our kids are older and have schedules, activities etc .. At least that's what I think happened.
Life gets busier, funny how that happens Ha ha!
Any-who, we've decided to do some seasonal get togethers: Fall, Winter, Spring and Summer. A different person will host each one and tailer it to the season, etc..
I really wanted to host the summer one, since we finally ( somewhat finished ) our back deck, and thought around the Summer solstice would be nice because everyone tends to go away during July and August. Plus it felt like a great kick-off to summer and added some extra excitement for the end of school count-down for the kids.
| My dress is from Winner's but I found one similar HERE |
I don't know about you guys, but I'm usually ready just moments before people arrive.
Then I'll be trying to take photos in-between handing out glasses of wine and giving welcome hugs.
Luckily everyone showed-up late this time so it looks like I actually have my crap together this time .. Laa tee daahh:)
Ya'll know my girlfriend Adrienne ( @TheBouquetFarm ) is super creative and helped me cozy- up this space. She did all the flowers for the table and around the patio.
Everything came from her garden and she used ferns and plum branches to create the base, then just added flowers on top.
Her Mom happened to have these brass candle holders, which added so much magic to the table when it started to get dark and they were lit up bright.
One of the best things that made this all come together were the tables we rented from @Woodpeckertables
They come in two stains and you can also rent chairs and couches as well. I got two blush chairs to put at the end of the table and it finished it off nicely.
They came and set-it up and took them down.
Flawless.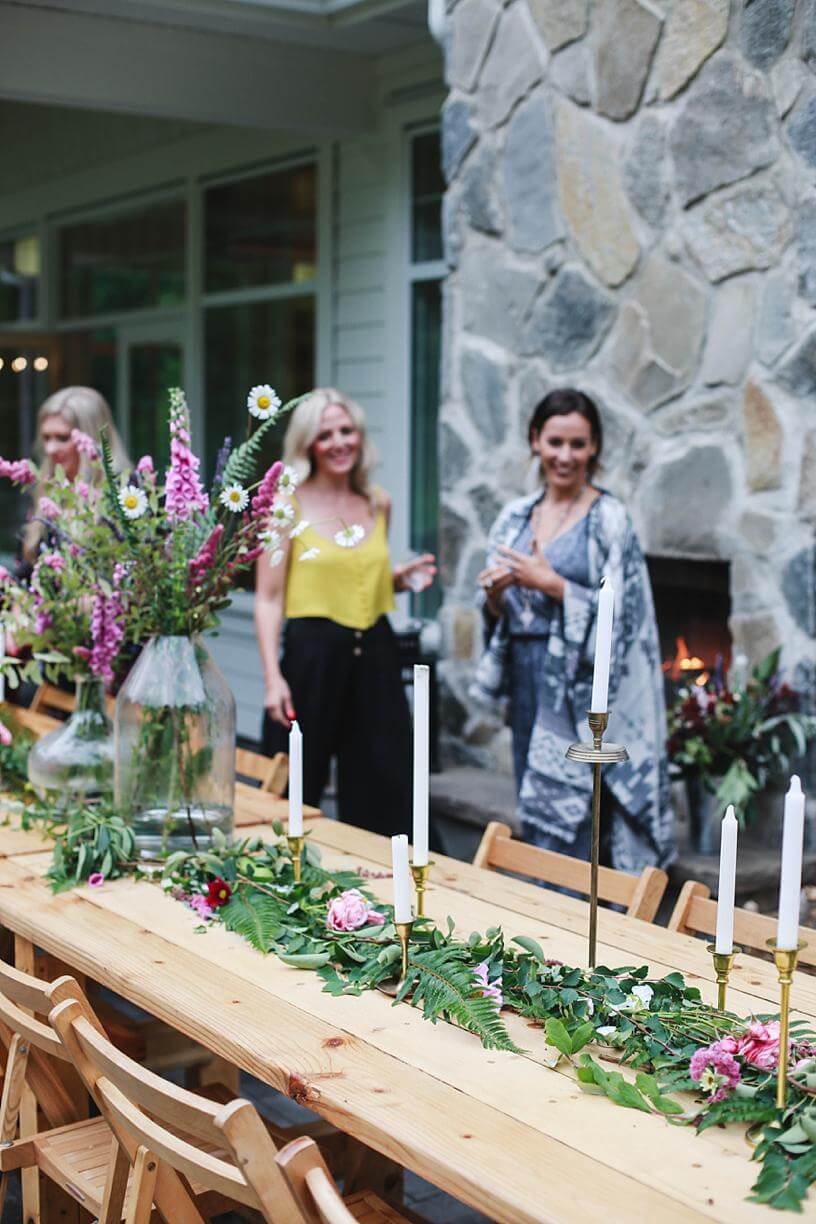 | Vases linked HERE and HERE |
We had 24 kids but we kept their meal simple and fed them before we ate.
I really wanted to make some special drinks so I came up with a lavender drink with edible pansies on top Here is the recipe:
Dried food grade lavender ( I get mine from the local lavender farm @TuscanFarmGardens )
Simple syrup:
Steep 2 heaping tbsp of lavender into 1.5 cups of boiling water on the stove
Once it steeps ( at least 10 minutes )
Add 1 cup of white sugar and boil until the sugar and water dissolves.
Place into a jar and let it cool.
( You can use it for anything – I love it for making lavender lemonade )
Add lavender syrup, gin, and sparkling water with a squeeze of lemon juice and place edible flower on top.
My girlfriend Angela offered to bring the dessert, she always goes super legit and made my absolute favourite Raspberry vacherin. It's like a two day process..
Come to Mama, I love her.
And as if that wasn't enough, she made the kids these sugar cookies-

Getting together and creating community with those who matter, always feels so good for my soul.
Thanks for supporting me so this blog can be possible
Xo, Michele